Birimian Gold (ASX:BGS)
Birimian Ltd (ASX: BGS) recently released its maiden JORC resource, confirming it has one of the highest grade, hard rock lithium deposits held by an ASX listed company in the world today.
Buoyed by highly positive results, BGS is looking to leverage off the current lithium boom being fuelled by a growing global desire for more efficient and cleaner power sources.
BGS owns 100% of its Bougouni Lithium Project in the west African nation of Mali and with its resource open along strike and at depth, we would expect it to grow over time…
BGS is due to kick off a drilling campaign in the coming weeks, hunting extensions to wide, high grade intercepts already previously struck.
With everything looking to be moving in its favour, BGS has several catalysts on the horizon.
BGS is now in a position to advance its Scoping Study and define its project Feasibility Study and first Ore Reserve Estimate by the end of the year.
The company has also entered an MoU with one of China's biggest commodity trading platforms. This multi-billion dollar Chinese company will facilitate a range of mutually beneficial transactions, including offtakes, mine development and achieving spot market pricing of BGS' lithium.
The information on this page should not be the only trigger for your investment decision. Click on the links below for a more in-depth and informed examination of the company. We strongly recommend you seek professional financial advice whenever making financial investment decisions.
BGS has the highest grade lithium resource of significant size held by an ASX listed company today, but this may be just the start of things to come.
With cash in the bank to fund its development activities, the company is looking forward to potentially meeting its goal of becoming an important cog in the wheel of the lithium energy boom, particularly in one of the most lithium hungry nations of the world – China.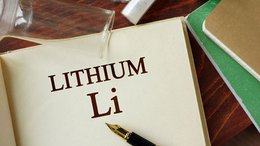 BGS Has One of the Highest Grade Hard Rock Lithium Deposits in the World
Nov 14, 2016
In the last 12 months, lithium and gold seem to have taken the mantle as the dynamic duo – the Batman and Robin – of the commodity sector. While demand continues to surge for lithium on the back of the new energy storage boom led by Tesla, Samsung and many other major battery manufacturers who are desperate to shore up lithium supply, gold has also been an investor favourite of late.
Related Birimian Gold (ASX:BGS) articles