Apollo Minerals (ASX:AON)
Apollo Minerals (ASX:AON) is a base, precious metals & iron ore explorer. AON aims to enhance shareholder value by advancing projects through discovery, development & mining. AON's exploration strategy targets highly prospective projects with the potential to become world class projects.
These projects are located in world class discovery provinces, where probability of discovery and potential rewards for investors are high. These regions include the Fraser Range in Western Australia where AON is exploring for Nickel, and the South Australian region where AON is exploring for IOCG(U) near Prominent Hill.
At the same time, this is a speculative mining stock, with no guarantee of success – investors should apply caution if considering making any investment.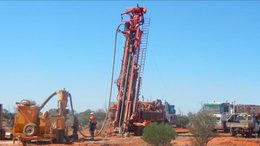 Drilling Underway for AON: Hunting Mammoth IOCG Targets
Oct 2, 2014
Apollo Minerals (ASX:AON) could be days away from finding a Prominent Hill style IOCG deposit. They are in the midst of RC and diamond drilling with results due any day now at AON's Mars Aurora project. At the EagleHawk project, drilling is ongoing. In total, a number of IOCG targets are being probed with a […]
Related Apollo Minerals (ASX:AON) articles